Accessibility
Everyone should be able to enjoy the universal language of music at The Princess Theatre.

We are dedicated to providing unwavering support to each individual who visits the venue.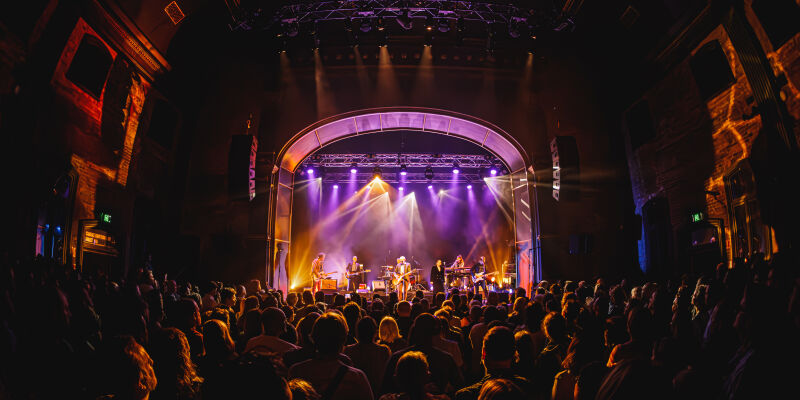 Curdin Wullschleger
BOOKING PROCESS
SECURING YOUR TICKET
The Princess Theatre has dedicated tickets put aside for wheelchair users and their companions. Please note that due to varying venue seating configurations, capacity limits will be in place for both reserved and general admission events.
COMPANION CARDS
A companion card is issued to people with a disability who have a lifelong need for attendant care support in order to participate in community activities and attend venues. The Princess Theatre provides companion card holders with a second ticket for their chosen companion at no cost.
Phone
To book wheelchair/companion card tickets for any Ticketmaster events via phone please call Ticketmaster's accessible booking line (reserved for those with access requirements) during business hours on 1300 446 925.
Email
Alternatively, to book wheelchair/companion card tickets online you can fill out a Ticketmaster request form via their website. Please make sure you select 'Accessible Bookings' from the 'Select a Topic' drop-down menu and fill in all the fields.
For all events not ticketed through Ticketmaster (i.e., Ticketek, Oztix, Eventbrite and Moshtix) please call The Princess Theatre on 07 3852 1711 or email hello@theprincesstheatre.com.au with your details, the name of the show, and the companion card details.
PRE-EVENT COMMUNICATION
Once you have secured your tickets, we encourage you to call (07 3852 1711) or email hello@theprincesstheatre.com.au so that we can add you to our accessibility list (more info on that below), and tell you what to expect when you arrive for the event.
ACCESSIBILITY LISTS
For all events (seated and standing) we provide our security and venue staff with a list of patrons with access requirements. If you are a wheelchair user/person with a disability, we encourage you to call (07 3852 1711) or email hello@theprincesstheatre.com.au to get your name added to this list, so that we can ensure all of your needs are met ahead of time (and so that you can jump the queue).
GETTING TO THE VENUE
If you have not been to The Princess Theatre before, or it has been a while since your last visit, you can familiarise yourself with the space ahead of time via our online 3D venue tour (also below), which allows you to click through to all of the different areas within the venue.
PARKING
There is no on-site parking at The Princess and street parking is limited. The closest car park is the secure parking facilities of Princess Parking (not affiliated with us) or the Mater Hospital. The Vulture Street Car Park and Queensland Cricketers' Club Car Park, operated by Secure Parking, are also close by.
TAXI & RIDESHARING
If you catch a taxi or ridesharing service to the venue there is a loading zone out the front of Hotel Diana, which is right next door to the venue.
PUBLIC TRANSPORT
South Bank station is the closest train station to The Princess Theatre (850 m away). Exit onto Grey Street and turn right, heading towards Vulture Street. Continue onto Vulture Street and turn right at Clarence Corner, Woolloongabba to Annerley Road. You will see The Princess Theatre on your left.
The closest bus stops are Mater Hill busway station which is less than 200m from the venue. The South Bank busway station is also nearby, within 1 km of the venue. Please search the TransLink Journey Planner for more details.
ATTENDING THE EVENT
JUMP THE QUEUE
If you have called or emailed ahead and are on the accessibility list (see above for more info) then you're a VIP and you don't need to wait in the line. When you arrive at the venue, please come straight to the front doors and check-in with our friendly security guards. They will then cross your name off the list, check your ID, scan your tickets, and let one of our venue managers know that you're here. If you are a wheelchair user, the guards will direct you to the wheelchair lift next to our cafe Fables (see here), as there are two steps from the street into the venue.
RESERVED ACCESSIBILITY SECTION
Once you're in the auditorium, one of our staff members will show you to the accessible section. This is an area that's reserved for people with access requirements and their companions. This area is blocked off to other patrons by a crowd control barrier at the front, and temporary fencing on the sides and at the back.
Please note that this space has a limited capacity and priority is given to wheelchair users/people with a disability. If you are on crutches, heavily pregnant, or have another medical condition that is not considered a disability, then we will do our best to accommodate you, pending capacity in the space.
WHEELCHAIR ACCESSIBLE AREAS
The Princess Theatre entrance is accessible via a lift next to Fables Cafe. The auditorium, courtyard, Fables, and the front foyer are all wheelchair accessible, and there is another lift inside the theatre that goes down to the accessible toilet and up to the stage (for artists and their crew only). The upstairs mezzanine and toilet, the gallery, and the greenrooms are not accessible for wheelchair users.
HEARING
AUSLAN INTERPRETED EVENTS
Auslan interpreted performances are for audiences who are d/Deaf or hard of hearing and use Australian Sign Language (Auslan). The Princess Theatre occasionally does Auslan interpreted events, and this will be indicated on the event page on our website, if available.
SENSORY FRIENDLY SPACES
Should you or one of your friends find yourself overwhelmed from the high-energy nature of some of our events for whatever reason, our staff and security are always here to help. Please don't hesitate to reach out to our team should you need assistance to find a quiet place to take a moment to regroup.

The Princess Theatre's auditorium will always be the loudest and brightest part of the venue, but we have couple of spaces that may be more suitable for patrons who need a little time out. If you are not familiar with The Princess Theatre, we recommend you check out our 3D venue tour below.
The Courtyard is right next to the auditorium and has plenty of seating options available, toilets, dimmed lighting and reduced noise. This area is open one hour before the door time, during the show, and approximately one hour post event. This area is wheelchair accessible via the street and for non-wheelchair users there are stairs from the auditorium. From time-to-time, this area can also get quite busy, but the laneway area is often much quieter.
Another great option is The Gallery, which is upstairs and opposite the mezzanine. This area also has seating options and toilets, but please note that it is indoor and has brighter lighting than the Courtyard. This space is not wheelchair accessible.
ASSISTANCE ANIMALS
Assistance animals are welcome at The Princess Theatre. If you are blind or have low vision and want to attend an event at the venue, Guide Dogs QLD can provide you with free training on how to travel safely from any location to the venue.
GET IN TOUCH
If you have additional questions regarding your visit to The Princess Theatre and venue accessibility, or if you have any feedback for us regarding your gig experience, whether it was good or bad, then we'd love to hear from you, as your feedback helps us continue to improve our services.
Please give us a call during business hours on 07 3852 1711 or email hello@theprincesstheatre.com.au.