Presented By Dead Puppet Society & The Princess Theatre in association with QPAC & Trish Wadley Productions
The Wider Earth
(AUS)
Fri 18 Feb 2022
Few Tickets Left
Sat 19 Feb 2022
Sold Out
Sat 19 Feb 2022
Sold Out
Dead Puppet Society
Event Passed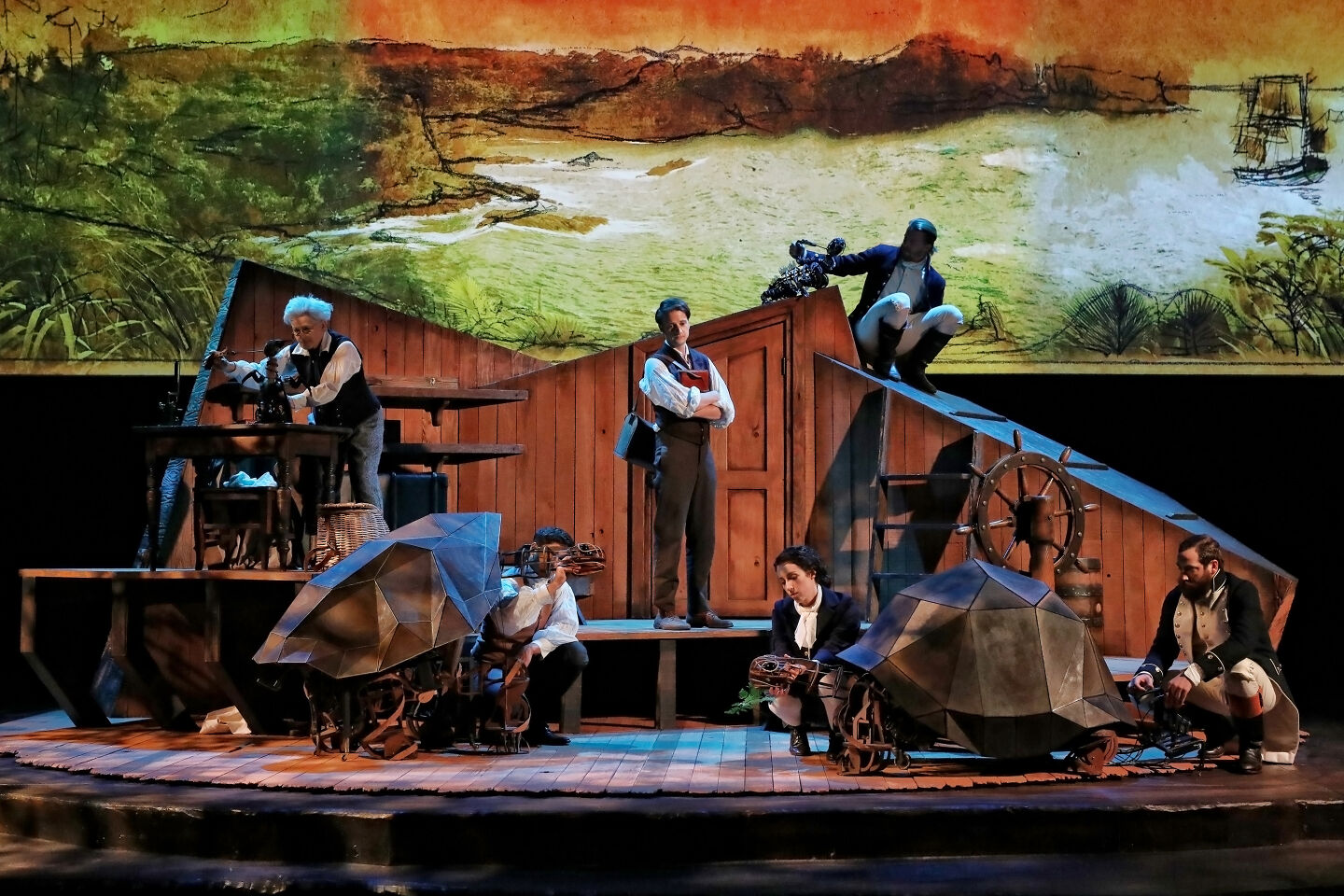 Date / Time
Doors 7:00PM
Start 7:30PM
Doors 1:30PM
Start 2:00PM
Doors 7:00PM
Start 7:30PM
---
Info
Reserved Seating
Duration: 2 hrs including 20 min interval
Recommended for Ages 12+
---
---
Event Passed
Dead Puppet Society's
The Wider Earth
by David Morton
A Dead Puppet Society, Trish Wadley Productions and Glass Half Full Productions production.
BEFORE DARWIN CHANGED THE WORLD, ONE VOYAGE CHANGED HIS LIFE.
The award-winning drama The Wider Earth tells the story of the rebellious young Charles Darwin.
Join the twenty-two year old Darwin on HMS Beagle's daring voyage to the far side of the world and discover the gripping story behind one of the most important discoveries in history.
An ensemble cast, remarkable puppetry, cinematic projections and an original score by Lior and Tony Buchen all combine to bring to life uncharted landscapes and incredible creatures in this highly ambitious theatrical event.
Nominated for a Olivier Award and 2x Helpmann Awards.
'This is a voyage of extraordinary theatrical discovery that celebrates the power of curiosity, the natural world and big ideas.' - Sydney Morning Herald


'Simply beautiful... The skeletal puppets move with beautiful realism – birds soar over the audience, fireflies rise into the air and sea creatures move through the water with fluid grace.' - Limelight


'Audiences will be exposed to an expertly written piece that involves drama, humour, suspense, and adventure...' - Artshub
Creative Team
Director and Co-Designer David Morton
Creative Producer Nicholas Paine
Associate Director Matt Seery
Co-Designer Aaron Barton
Composers Lior and Tony Buchen
Sound Designer Tony Brumpton
Associate Sound Designer Brady Watkins
Projection Designer Justin Harrison
Original Lighting Designer David Walters
UK and Tour Lighting Designer Lee Curran
Associate Lighting Designer Christine Felmingham
Dramaturg Louise Gough
Cast List:
Tom Conroy - Charles Darwin
Frances Berry - Emma Wedgwood
Anthony Standish - Robert FitzRoy
Alex Kaan - John Wickham
Jaime Ureta - Jemmy Button
Kevin Spink - Richard Matthews and Robert Darwin
Barbara Lowing - John Henslow and John Herschel
Liesel Zink - Puppeteer
Warning: Dead blackouts, naked flame, approved theatrical smoke, haze effects and strobe lighting. The use of photographic or recording equipment is not permitted inside the theatre. This show is recommended for Ages 12+
As of 17 December 2021 it is a Queensland State Government mandate that patrons, staff and artists above the age of 16 need to be fully vaccinated with an approved Covid vaccine to enter The Princess. Please do not purchase a ticket to this event if you will not be fully vaccinated by this performance date. You will need to provide proof of double vaccination upon arrival at the venue and patrons who fail to do so will be refused entry.